We are the first specialized portal for trademark registration in the Czech Republic.
"Our desire is to make brand and idea protection accessible to all. With each step we try to simplify everything as much as possible. We believe that we will be able to simplify the trademark market so much that in time we will not be needed at all!"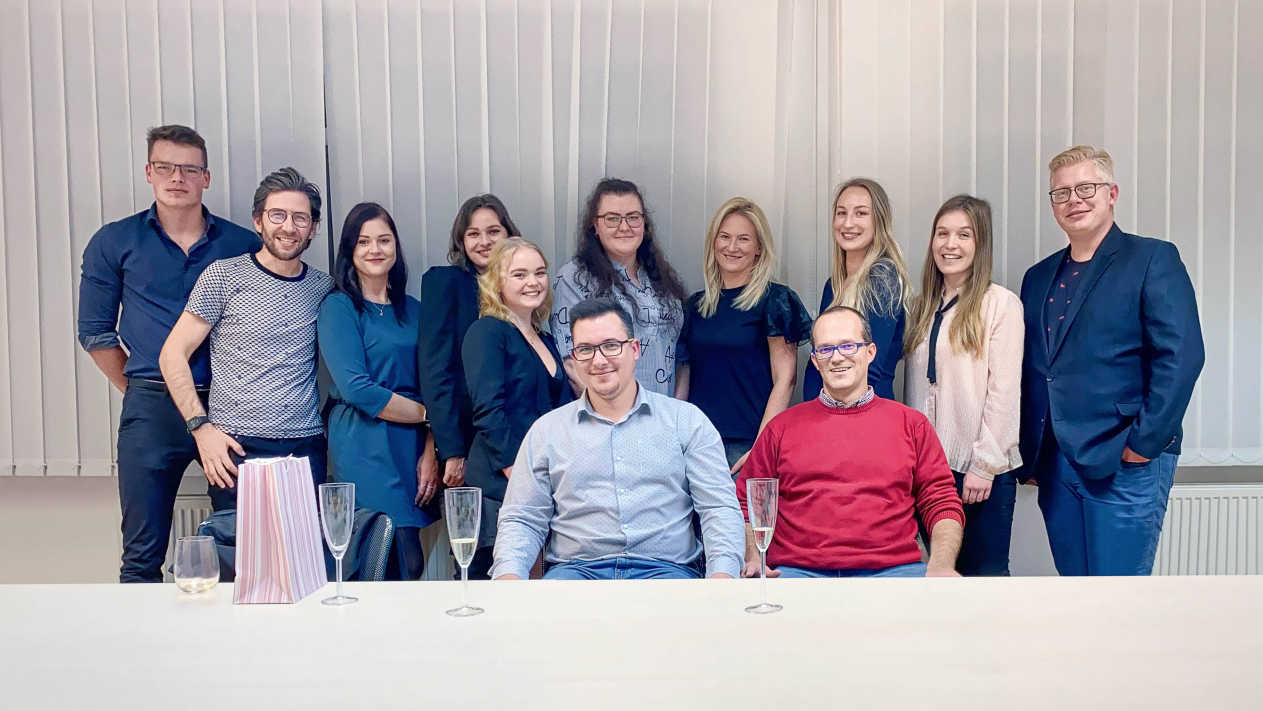 Our story
2012
The need to register our trademark
Jakub Michl and Jan Beneš set up an advertising agency in Pilsen and decided to register a trademark for it. The process was quite complicated and they had limited finances in the beginning, so they decided to do it on their own.
2015
The search for partners
The clients wanted trademarks. We looked for partners from the ranks of patent attorneys and lawyers who would be able to offer perfect services at reasonable prices. Jaroslav Mrvka joined the team and took charge of the entire project.
2016
Establishment of the patentoid.cz project
After a long journey of finding suitable partners, the first specialized trademark portal was created. It was designed as a simple service where, after filling in the form, everything is taken over by a specialist on the given topic and the order is then completed with the client.
2017
Celebration of hundreds of registered trademarks
We are happy that the patentoid.cz service is a success and that it is celebrating the first few hundreds of registered trademarks. The numbers are growing and we are fulfilling our mission to simplify the protection of brands, names, logos etc. as much as possible.

A team of 13 people is caring for you at the moment
Peter G. (July 2021)
5 / 5
Absolutely amazing cooperation, recommended to everyone.
Peter S. (April 2021)
5 / 5
Awesome user interface. Fast response. Great communication.
James P. (April 2021)
5 / 5
All I had to do was fill out the order form and they took care of the rest - it was simple, online, and worry-free. All of my questions were answered promptly and thoroughly.
Martin S. (February 2021)
5 / 5
We were worried someone would take our slogan. With Patentoid, we were able to register it quickly and easily..
Edward P. (June 2018)
5 / 5
Well done guys.
Philip M. (April 2021)
5 / 5
I like services that can make relatively complicated things as easy as filling out a simple form. Patentoid is one of them. You can spend hours studying up on trademarks and trying to apply for one yourself or debate them with attorneys.
Thomas B. (August 2021)
5 / 5
The trademark registration was fast and smooth. I can honestly recommend Patentoid to other customers.
Daniel B. (May 2017)
5 / 5
I am truly satisfied with the service. :-) I filled out the order form, sent a couple of emails, and that was it. As a customer, I can say it was perfect - everything went smoothly, and I didn't have to worry about anything. Thank you once again, have a beautiful day and many satisfied customers :-)
Evelyn B. (April 2021)
5 / 5
I am really glad there is a company that can make the registration process easier! I think it's a great investment. It will save you a lot of time and running around.
Fast and flexible experts. Can recommend.
Benjamin C. (March 2018)
5 / 5
I submitted all the supporting documents and paid the agreed-upon fee. You are informed of all the steps beforehand and when the deadlines are up, your trademark is easily registered. A big thanks to the whole team.
Martin C. (April 2021)
5 / 5
What I appreciate most about Patentoid is their communication and genuine interest in the customer. I was also pleased by how fast they processed my order and by the regular updates on my order status.
Stanley D. (November 2015)
5 / 5
Thanks to Patentoid, we have had our software protected from the very beginning. Fast and simple. Highly recommended.
Daniel F. (July 2018)
5 / 5
Patentoid offers the kind of service I was looking for. After placing an order, all me and the employees of the company had to do was consult the individual stages of the trademark registration process. We were regularly informed about the progress made. Everything was just perfect. Thank you.
Ralph C. (February 2021)
5 / 5
I wanted to have my brand protected because I have been building it for several years, so I used patentoid. Highly recommended.
Laurence B. (April 2021)
5 / 5
I wanted to register a trademark for my company, but I was horrified by all the paperwork I would have to do. I placed an order on Patentoid and they took care of everything. I admire people who can handle bureaucratic mud on a professional level.
Joshua C. (April 2021)
5 / 5
They took care of everything perfectly.
Daniel D. (July 2021)
5 / 5
Working with Patentoid was great. It all went smoothly, and the communication was great. Thanks
Alfie C. (August 2021)
5 / 5
Perfect service. Even laymen will be able to understand everything.
Adam A. (June 2018)
5 / 5
Everything up to par. Would recommend.
Edward O. (July 2021)
5 / 5
Friendly and open communication
Glad to have my (R)
Henry B. (July 2019)
5 / 5
Absolutely delighted! If you are in need of professionals who will help you with everything, you've come to the right place! They will inform you throughout the whole registration process in a quick and clear fashion. I'd recommend their services to everyone.
Thomas L. (October 2016)
5 / 5
It is only thanks to this service that we finally have our long-awaited ®. Everything was explained to us and we were recommended the best option for us. Apart from a couple of emails and signing a power of attorney, everything was done by Patentoid. It didn't take up any of our time. We can truly recommend their services!
Friendly team, can help and steps in when issues arise. We Thank to Patentoid securing our Trademark.
Good service. I can recommend.
Daniel S. (July 2021)
5 / 5
Fast, simple, clear.
Numbers that could interest you
We have already helped register 3 658trademarks

We cooperate with 13experts

Of all submitted applications, 98.7% can be registered as trademarks